About me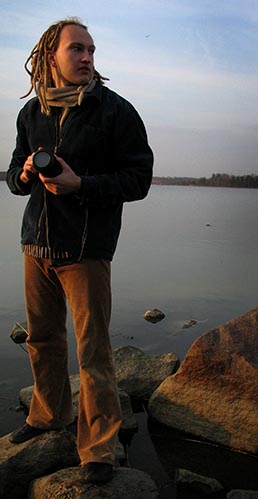 I'm a student, research assistant and amateur photographer currently living in Espoo, Finland. I enjoy photography but still have lots to learn on this wonderful hobby.
At the moment I feel envious looking at other photographer's work, but I hope my skills will steadily improve. I have attempted to include numerous works in my portfolio, also older ones, to display both my current talent and my progression.
New camera summer 2005
I used to own a film Canon EOS and a digital prosumer camera Canon PowerShot G5. Although its not the cameras that make the pictures but rather the people using them, I still felt that I would like to bring the versatility and control that my film SLR had also to the digital realm. Because of this, I just recently bought a Canon 20D DSLR. I hope I'll learn this new equipment soon.
I believe in customer trust networks, meaning that good companies are recognized and given credit to. I would like to mention two online shops I like doing business with. Below is first a little ad for Directshopper.de where I usually buy my equipment from. The prices are considerably cheaper than in brick-and-mortar Finnish stores. (Please notice that I get 2.5% discount for having this ad, but would have done it also without the money)
Another good store for exotic glass is Rugift in Russia. They sell, among other items, Zenitar and Peleng fisheye lenses, which are superb alternatives to expensive Canon or Sigma equivalents.