Home-Baltia-Chernobyl-Auschwitz-Home: Part II
Lithuania's Past and Present
In the morning there was some time to explore the surroundings of the motel. The area seems poor - the huge Soviet-style residential builings, once symbols of equality and unity of the people, now slowly deteoriating.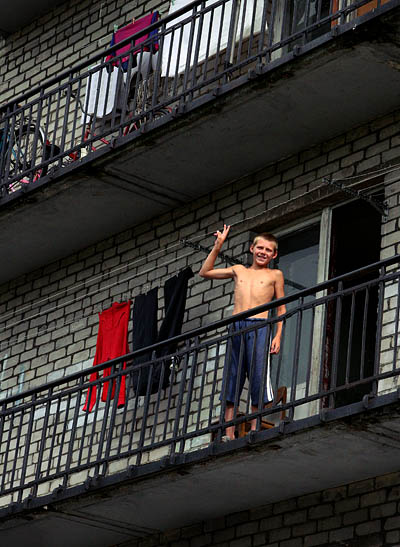 After first shyly observing me taking pictures, the boy on the balcony soon smiles back to my signs of goodwill and friendship, and allows me to take a photograph of him.
Another boy is practising improvised basketball in the nearby remains of a court. NBA, a dream for so many poor in the United States of America, also seems to have a magical tone in Lithuania. It is only back home when studying the photos that I understand why the throws of the boy seemed so odd - there is no hoop to aim to.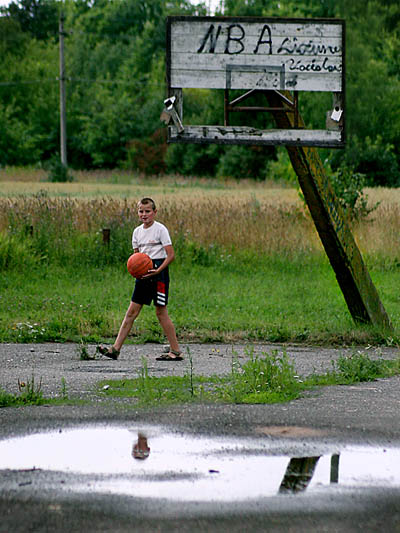 Throwing a basketball without a hoop feels like a good metaphor for the oppressive situation the Lithuan youth is facing. Although the country is getting richer and richer, the situation of many families, especially outside big cities, is not improving. Crime against property is prevalent and a signal that the stark differences in wealth are causing unrest. In spite of this, I felt that we were safe, and could sense great friendliness in the people.
I've always felt this special warmth and friendship when visiting former Soviet countries. It seems somehow that the people in Eastern Europe are more open towards each other, more willing of letting other people enter their lives. In the rich, Western countries I sense people showing mistrust against all things uncommon. In the East these kinds of psychological walls are not built. Is this the legacy of communism, or something in the culture of the countries, or something else - that I do not know.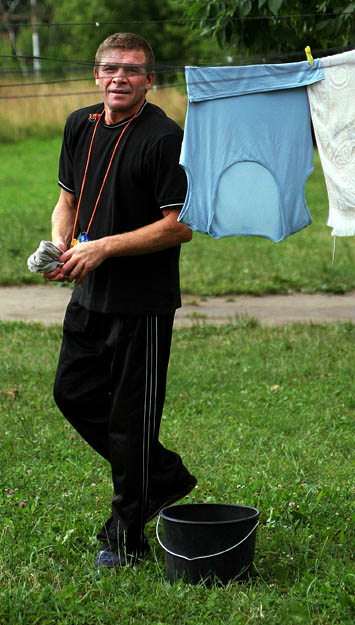 Before leaving the neighbourhood I tried to ask some questions from a older resident who was hanging his washing out to dry. Neither English nor German seemed to be fruitful so I could not get an answer to the questions pressing my mind - how does it feel to be a Lithuanian today, has the ending of the Soviet era brought the desired changes or are things under the new ultra-capitalistic and money-worshipping system worse than before? Was the kids' basketball court repaired and looked after before everyone started looking out for themselves?
It is time to leave this neighbourhood and start driving towards Chernobyl again. We had a hotel reserved for the next night at Lublin which gave us 500 kilometres to travel for this day.
The first stop was close to our motel. The city of Kaunas was fortified with a series of defence bunkers to defend itself against the Nazi threat during the war. The Nazis, however, never fought directly against the fortresses, choosing to siege the city instead. After thirteen days the city had to surrender and IX Fortas, our stopping place, was used as Nazi army barracks and later a concentration camp. About 80 000 Jews, Slavs and representatives of other etnicities were killed during the war. On the large burial field of the concentration camp now stands a huge cement monolith to commemorate the deaths.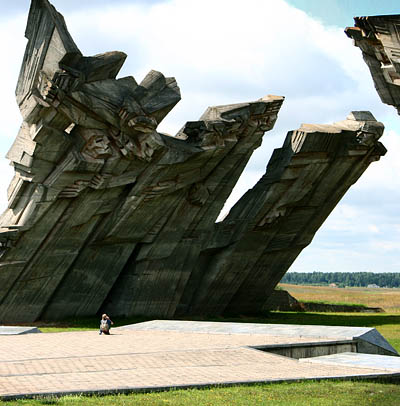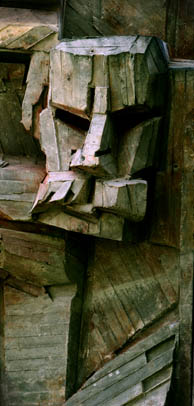 Instead of visiting the museums, we just take a stroll in the fields and continue our journey. It is already midday and we have had nothing to eat so we head for a restaurant inside Kaunas' center. After eating we have some problems finding our way out from the city, but that gives us travelling in the back seat a good opportunity to take some snapshots through the windows of the car. I spot an old entrepreneurial woman selling shoes to earn a living.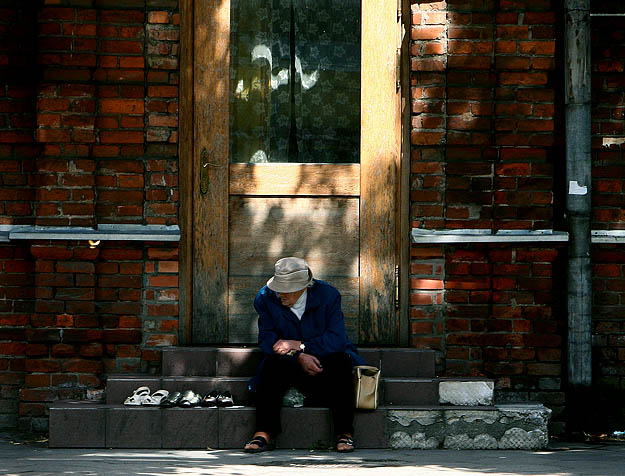 Again our schedules proved to be too tight and we arrived at our next hotel close to midnight. The city and old town of Lublin, Poland, seemed beautiful and full of shops, restaurants and exhibitions. However the late time of our arrival forced us to eat in a bar rather than a real food restaurant.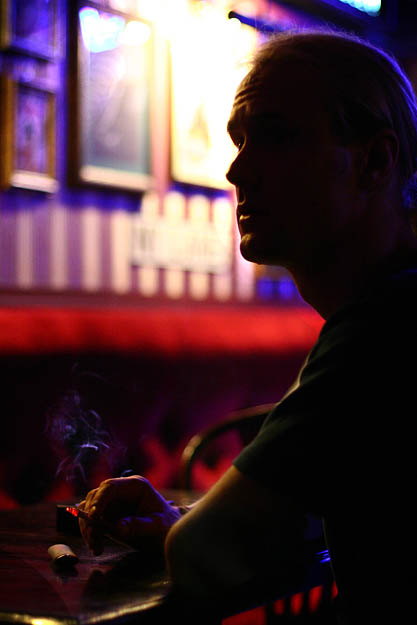 At this point I noticed a habit of mine of taking pictures of Sami, one of my travelling friends, in the dark. I've only posted a couple of these online, but in reality Sami appears in quite many of my nocturnal photos. There is something in his appearance that I feel evades my photographs, I'm not completely satisfied with how the images turned out.
Hotel Campanile in Lublin is a place worth recommending to travellers. The cheap 20 EUR fee for a night bought us a stay in a modern, fancy hotel with clean rooms and high-tech gadgetry such as WLAN access. The location was also superb, just a five minute walk to the the center of the city.
Our night sleep was again a short one as we had a 600 kilometer stretch ahead of us. We had read scary stories of the Ukrainian roads so we were unsure how fast we could drive.